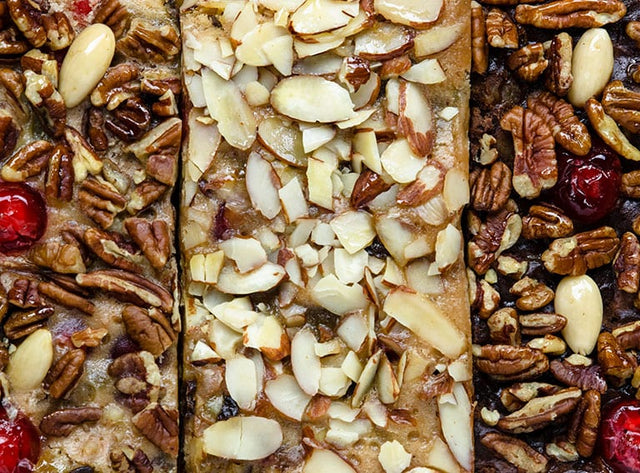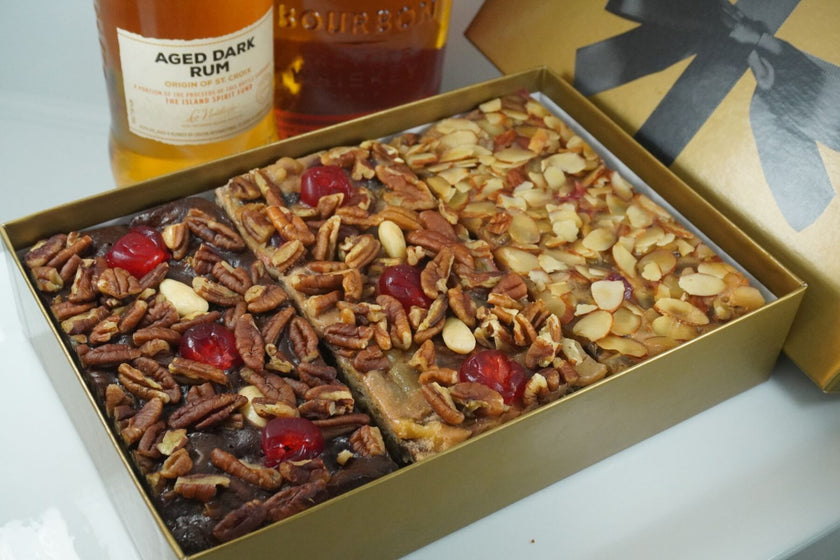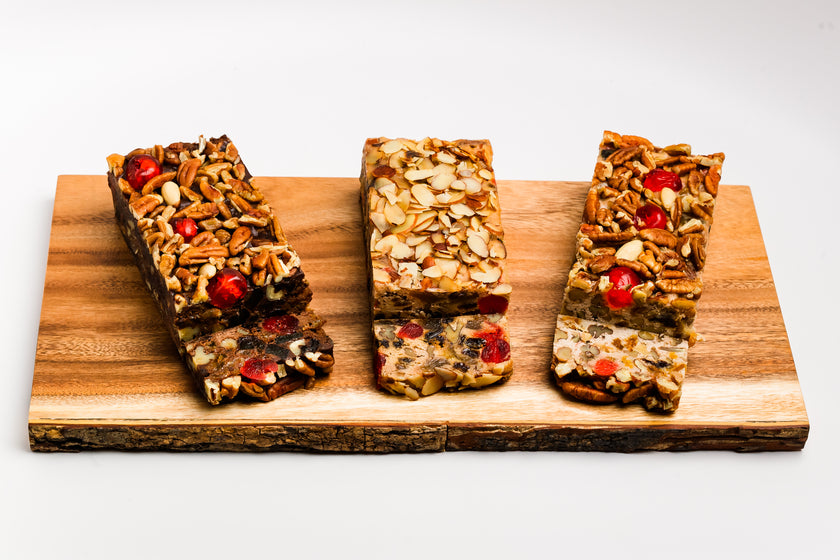 Grandma's Gourmet Trio [Original, Amaretto, Chocolate]
3 of Grandma's Famous Brandy, Bourbon, and Rum cakes in Original, Amaretto, and Chocolate are holiday favorites packed with raisins, cherries, pineapple, walnuts, almonds, and pecans in a batter rich with bourbon, rum, and brandy. Each hand-decorated cake is allowed to mellow to perfection after baking!

#02087 – 1 LB. (454g) Amaretto Fruitcake Bar - 1 LB. (454g) Grandma's Fruitcake Bar – 1 LB. (454g) Chocolate Grandma's Fruitcake Bar

Each cake serves 6-8
$33.57
$47.95
you save $14.38
Allergens
Almonds, Egg, Milk, Pecans, Walnuts, Wheat. Manufactured on shared equipment with Tree Nuts and Soy. Contains Sulfites.
Dimensions
Retail Box (#882600): 9-7/8 x 6-5/8 x 2-1/8" 3 cake/unit Weight – 3.6 lbs. Mailing Carton (#S4897): 10-3/8 x 7-1/4 x 3-1/2" 3 cake/unit Weight – 4 lbs.
Kosher Statement
ONLY the Pineapple Macadamia Nut Cake Bar is certified Kosher through the Dairy (Milchig) requirements strict Orthodox Rabbinical supervision by the Triangle K endorsement.
Multipack Items
Grandma's Fruitcake is a holiday favorite packed with raisins, cherries, pineapple, walnuts, almonds, and pecans in a batter rich with bourbon, rum, and brandy. Each hand-decorated cake is allowed to mellow to perfection after baking! #02087 – 1 LB. (454g) Amaretto Fruitcakeake Bar – 1 LB. (454g) Grandma's Fruitcake Bar – 1 LB. (454g) Chocolate Grandma's Fruitcake Bar Each cake serves 6-8
PLEASE REFRIGERATE AT LEAST 24 HOURS BEFORE SLICING. USE NON-SERRATED (STRAIGHT EDGE) KNIFE TO CUT CAKE TO AVOID CRUMBLING.